by michael eli dokosi/www.blakkpepper.com/Ghana
Joe Biden has emerged as the 46th president-elect of the United States with his win of Pennsylvania which put him over the 270 electoral vote threshold beating Donald Trump whose team has mounted a series of lawsuits in several states alleging the election was stolen for the former vice president.
The projected win also makes California Sen. and running mate Kamala Harris the first female vice president-elect and also the first black as well as first South Asian veep of the United States.
Although America has always been racist, its Trump's racist posturing which gave white supremacy groups the confidence to spew their venom as well as make their presence felt sometimes going on parades fully armed as well as attacking blacks who will not conform.
"Biden, who turns 78 at the end of this month, will become the oldest president when he is inaugurated in January in the midst of the worst public health crisis in 100 years, the deepest economic slump since the 1930s and a national reckoning on racism and police brutality that is still unresolved."
For Donald Trump, the very mail-in ballots he dissuaded his supporters from voting by appears to have undone him. Biden closed the gap of Trump's lead when the mail-in ballots counting began coming from service men and women overseas, diplomats and embassy staff.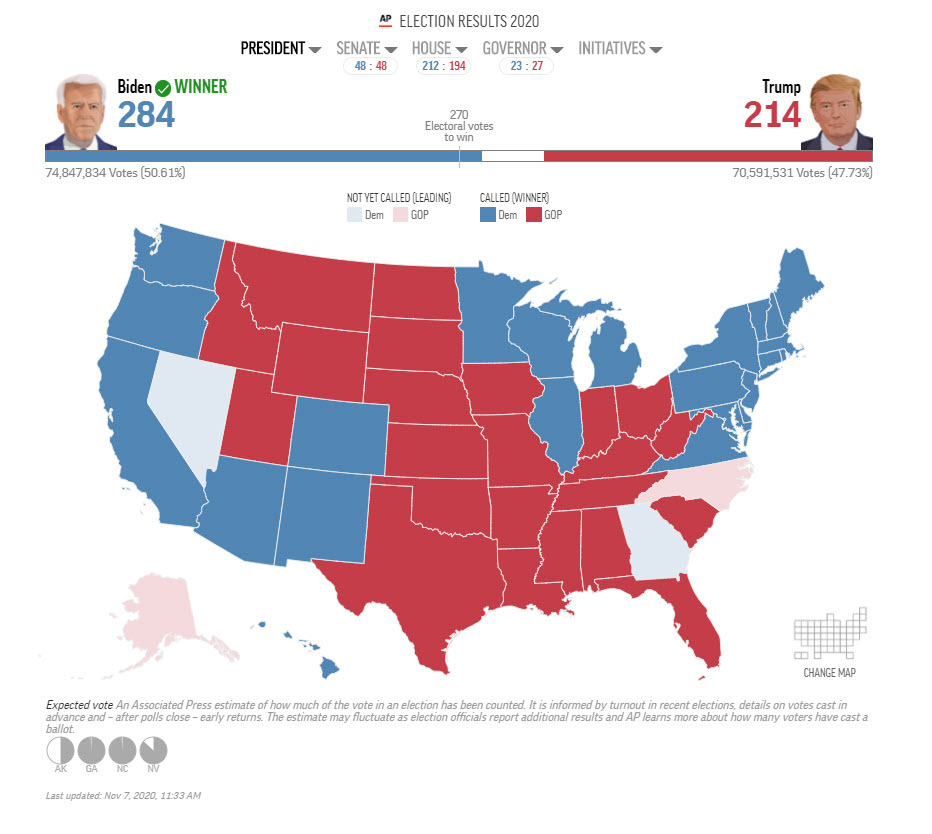 The American media quickly truncated broadcast of his press conference alleging voter fraud submitting the president had falsely made the claims without a shred of evidence.
Trump then took to Twitter lashing out "STOP THE COUNT." But officials in charge of the vote counting continued with Biden submitting in Wilmington, Delaware that "Each ballot must be counted. … Democracy is sometimes messy. It sometimes requires a little patience, as well. But that patience has been rewarded now for more than 240 years with a system of governance that is the envy of the world."
Biden's impressive performance meant he held onto most of the states that Clinton won adding Pennsylvania, Michigan and Wisconsin to his column which all helped cross the 270 Electoral College votes to 284.
The Trump team is challenging the results in several states, including Pennsylvania. They are also demanding a recount in Wisconsin, where Biden led Trump by some 20,000 votes.